About Robertsbridge
Robertsbridge is the largest of three distinct settlements within the civil parish of Salehurst & Robertsbridge. It lies 12 miles north of Hastings on the A21 and has a population of approximately 2600 (2007 AD).
Salehurst the oldest settlement was recorded in the Domesday survey of 1088 as being in the possession of the Count of Eu and having "...land for 4 ploughs, 7 villagers and 8 cottages with 6 ploughs. A church; meadow 16 acres".
Origin of the name Foundation of Robertsbridge Village Medieval origins Growth of the village Francis Frith Since 1900 Listed buildings Robertsbridge & District Archaeological Society As others see us British local history Publications for sale Urban survey Sources
Origin of the name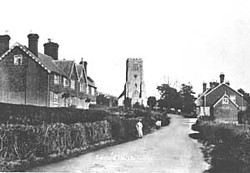 Robertsbridge owes its existence and its name to the arrival of Cistercian monks from Boxley, Kent. They founded a small chapel believed to be near the present George Inn and in 1176 a charter was granted to the Abbey of Robertsbridge.
At some time point the Abbott, Robert de Martin, or perhaps some other benefactor named Robert, is believed to have had a new bridge built to replace, or improve, the river crossing at Salehurst.
The latinised form, Pons Roberti, Robert's bridge, appears in the abbey records and on the abbey seal of the 13th century and is the first recorded use of the name. In about 1210 a new abbey was started about 1 mile east of the original chapel and on the opposite bank of the river to Salehurst and the abbey started their "new Vill of Robertsbridge" on its present site.
At this time they probably depopulated an earlier settlement Drigsell and moved it into their "new vill of Robertsbridge".
Foundation of Robertsbridge Village
Please click here to view a PDF written by Dorothy Martin on the foundation of Robertsbridge village.
Medieval origins
Some years ago, I published a short pamphlet which showed the relationship between the medieval buildings in Robertsbridge and the events which were taking place in the area and nationally and in the wider world. You can view this document in .pdf format by clicking this link
Growth of the village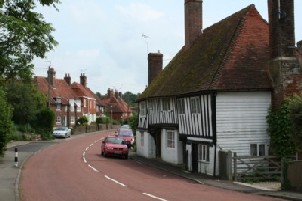 A market Charter was granted to Robertsbridge in the 13th C. and it became a flourishing and prosperous town as shown by the many fine timber framed houses dating from the 14th – 17th C. – amongst these are the Seven Stars and Rosebank both dating from c.1400 and 25-27 High Street dating from c.1510. The earliest house dates from c.1390 and is now divided into 4 cottages - 1-4 Fair Lane.
There seemed to be a particular period of new building during the early 1400's and perhaps this is due to a disastrous fire which broke out on September 8th 1413 when the village was struck by lightning.
Several places were struck by these severe storms during 1413, including Norwich, Tewksbury, Robertsbridge and Winchelsea and this was seen by some at the time as a bad portent for the accession of King Henry V although his victory at Agincourt 2 years later dispelled this. Was some of the re-building paid for from the proceeds of booty from that battle?
A small settlement grew up on the north side of the river, Northbridge Street, which suggests that a bridge was in place near this river crossing point at least from the early 15th C. Northbridge Street has remained a small settlement but the surviving medieval buildings suggest it was also as prosperous as its neighbour across the river.
Although Robertsbridge became the largest settlement, St Mary's at Salehurst remained the parish church. The present building dates from the late 13th C. and has some fine medieval glass and 18th C. table tombs with terracotta plaques by Jonathan Harmer. In the 18th C. however, along with many other villages, non-conformist religions challenged the orthodox church. John Wesley visited the village on several occasions and eventually 4 chapels were built within Robertsbridge; 3 of these buildings survive but 2 are now private residences.
In 1840 the Post Office opened, one of the earliest in England and in 1841 Salehurst Primary School opened its doors in Northbridge Street – a National School which replaced the subscription school. The school remained in this location until 1988 when it moved to a new building in Robertsbridge to make way for the bypass which opened in 1992.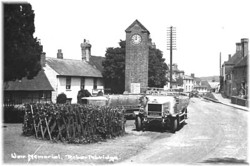 The George Inn was the stopping place for stage coaches which were the public transport before the coming of the main line railway from London to Hastings in 1851. The Ostrich Hotel opened in the same year. The picture shows the war memorial.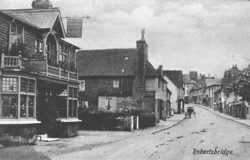 Another inn, The Railway Tavern was built in the High Street to accommodate the Irish navvies constructing the railway but earned a reputation for drunkenness and bad behaviour – it closed as a pub in the 1920s and was demolished in the 60s.
In 1900, the Kent & East Sussex railway was built from Tenterden to Robertsbridge giving access to the main line for the rural villages. This branch line closed to passenger traffic in 1954.
By the 1900s, the parish was a thriving community with shops, inns and in addition to agriculture had a number of industries including saw milling, flour milling – both now ceased – and the manufacture of cricket bats. The latter industry, started by L. James Nicolls, quickly established a reputation and all the leading players from W.G. Grace to the present time have used their bats. The industry continues today as the Gray-Nicolls company, which supplies bats all over the cricketing world.
Like many other communities across the country, the 1st World War had a profound effect and the distinctive War Memorial clock tower, erected in 1926 records those from the parish who lost their lives in that war and the 2nd World War. For those interested, there is a comprehensive site giving details of the people listed on the memorial. I am grateful to Wendy Cawthorne for this information.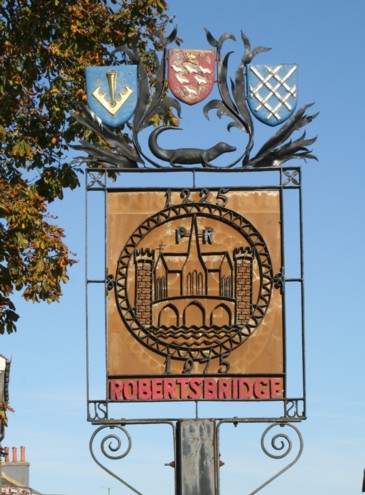 Adjacent to the war memorial is the village sign which was erected in 1975 to mark the 750th anniversary of the founding of Robertsbridge abbey.
The sign depicts the abbey and above it are, on the left the arms of the Sidney Family who acquired the abbey at the Dissolution; in the centre the arms of East Sussex and on the right, the arms of the de Etchingham Family who owned much of the land in and around Robertsbridge.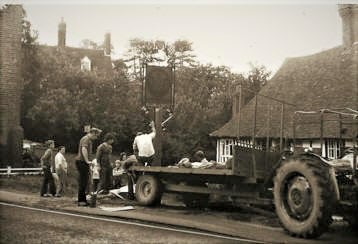 The cost of the sign was raised by public subscription organised by the Robertsbridge Archaeological Society and was made by Mr Jim Smith of Burwash. The picture shows local people erecting the sign.
I am grateful to Mr John Martin, one of the founder members of the Archaeological Society, for making this photo available.
Francis Frith
A Victorian photographer, he travelled widely in the Middle East and in the United Kingdom . After he finished his travels in the Middle East in 1859, he opened the firm of F. Frith & Co. and embarked on the project of photographing every town and village in the UK , in particular, notable historical or interesting sights.
Initially, he took the photographs himself but then hired people to help him and then established his postcard company which became one of the largest photographic studios in the world.
After his death in 1898, his family continued the business but this was finally closed in 1970 by which time it had amassed hundreds of thousands of images.
Bill Jay, a leading photographic historian, identified the collection as nationally important and at risk and persuaded Rothmans, the tobacco company, to buy the collection to ensure its safety. In 1977, John Buck, a Rothmans executive bought the company and re-launched it as The Francis Frith Collection. Their web site contains 18 photographs of Robertsbridge, mostly from the 1950s, which can be viewed on the site and copies ordered if you wish!
Another good collection of photos from the past is 'Battle and Robertsbridge in Old Photographs' collected by Alan Gillet and published by Alan Sutton Publishing, 1989. Now out of print but copies can often be found in secondhand book shops.
Since 1900
There have been many changes over the last 123 years. In 1986 the main line railway from London to Hastings was electrified and in 1992 the A21 bypass was completed taking much of the traffic out of Robertsbridge and Northbridge Street.
A hurricane in October 1987 caused much damage in the village and surroundings and in November 2000 severe flooding damaged over 70 properties and made more than 40 families temporarily homeless. Since then, new flood defences have been installed which will hopefully prevent a repetition. See Tempests & Floods
Many new houses have been built, particularly in the 1980s & 90s and two of the main providers of employment – the flour mill and the saw mill have closed. Many residents now commute from the village to work.
As with other villages, changes to shopping habits and greater mobility has brought about the closure of a number of shops and businesses but the village has adapted to these changes and is still a thriving community.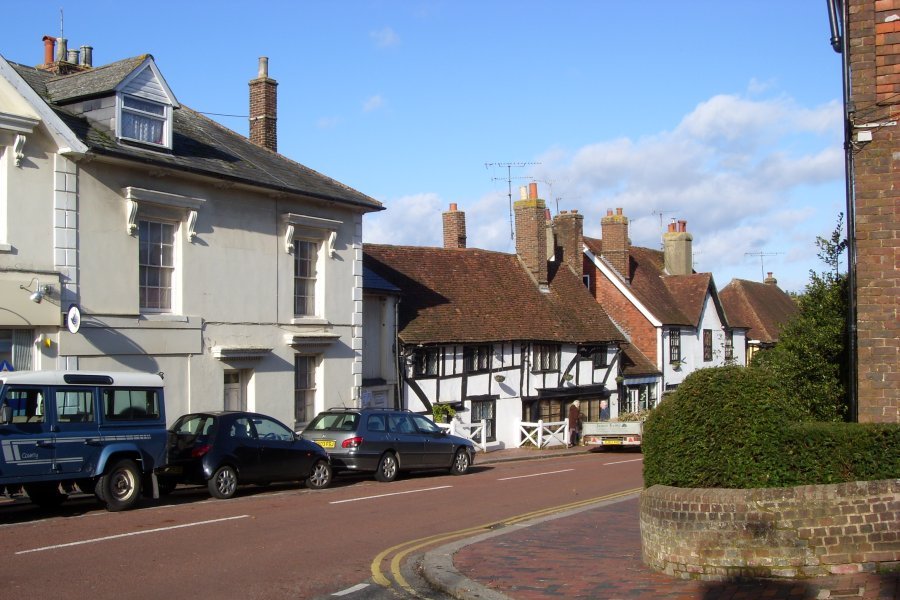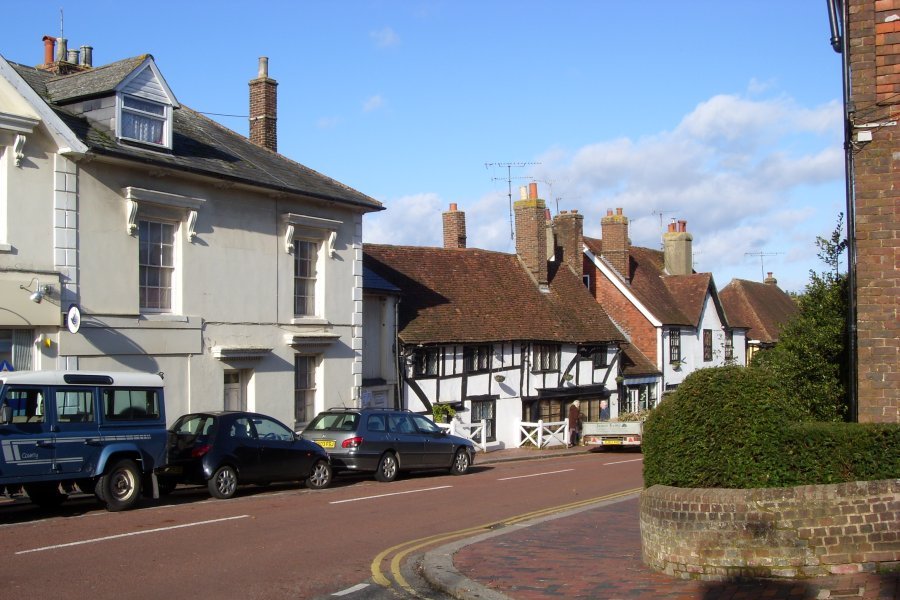 The High Street
There is a general store, post office, hairdressers, 2 florists, a chemist, 3 farm shops and a second-hand book shop. In addition, there is an estate agent, a forge, a vet, an agricultural machine centre and a garden machine centre and there are numerous individual traders providing services ranging from gardening, building and computing.
And there are three public houses with good restaurants, an Indian restaurant and there is a doctors' surgery and 2 dentists.
The primary school has around 200 pupils and the Community College which started life in 1955 as a Secondary Modern now has some 600 pupils, many of whom travel from outside the parish. Sixth form provision is at Bexhill or Hastings College. A flourishing Playgroup, which for many years used the village hall, has now (2007 AD) moved into purpose-built accommodation near the primary school. There is also a Youth Centre which caters for other villages besides our own.
Robertsbridge Hall, which opened in 1988 after years of fund raising by local residents, is now used regularly by many village organisations such as W.I., Age Concern, Short mat bowls, ballet and slimming classes and for dances, jumble sales; it is also a popular choice for wedding receptions.
There are Scouts and Cubs and Brownies and Guides with their separate HQs and parish recreational facilities cater for football, cricket and stool ball; rugby and tennis facilities are available at the Community College.
In addition to the recreation grounds, the Parish Council owns or controls over 20 acres of land which are maintained for wildlife and quiet recreation.
Adult education classes are run by the Community College and the local W.E.A. group.
In 1999, the parish twinned with the town of St. Brice Courcelles in France .
Listed buildings
Listed Buildings are designated by the Secretary of State for Culture, Media and Sport as being of 'special architectural or historic interest'. Recommendations for, and records of, Listed Buildings are maintained by English Heritage which acts as the government's advisor on all additions and other alterations to the Statutory List. Listed Building cannot be altered or demolished without permission.
Buildings are listed for a variety of reasons and may qualify under one or more of these criteria:
Architectural interest: listing aims to include all buildings of importance to the nation for reason of their architectural design, decoration and craftsmanship;
Historic interest: this includes buildings which display important aspects of the nation's social, cultural, economic or military history;
Historical associations: buildings with close historical ties with nationally important people or events;
Group value: particularly where buildings together make up an important architectural or historical unity or a fine example of planning (for example, squares, terraces, model villages).
Listed Buildings are classified in grades to show their relative importance, Grade I, II* & II. All Listed Buildings are of special interest but Grade I buildings are of paramount importance to the nation and Grade II* are of outstanding interest.
English Heritage has started a project of photographing every Listed Building in England and those in this parish can be viewed by clicking this link and entering Robertsbridge or Salehurst in the 'Search' box.
Robertsbridge & District Archaeological Society
The Society was formed in 1962 by two Robertsbridge schoolboys, John and David Martin, with the enthusiastic help of their mother Dorothy. The Society still thrives today with a large membership but over the years has evolved into more of a local history society.
The Society always welcomes new members. Please contact the Secretary:
The Society holds 8 meetings a year and usually arranges at least one outing as well.
As others see us
This is an article from the magazine 'Viva Lewes' published in November 2010 - click here to view in pdf format.
British local history
British History is rich and colourful and merits a special dedicated record.
The British Assocation for Local History asks members of the general public to contribute and discuss and voice their ideas about local history, genealogy, family trees, ancestry and historic events, social history, momentous occurrences, people and interesting history related websites.
There are over 2000 links to and from local history societies and they offer you a rich environment to contribute and mark your place in history. We welcome you to contribute stories, images and videos and discuss numerous British social and local history related topics.
With a forum for every major town in the UK, you can easily share your ideas with your local community and others!
Publications for sale
The members of Robertsbridge History Group have done much research into the history of the parish and produced a number of publications which are available at reasonable prices.
Copies can be obtained from The Floral Boutique, 20 High Street, Robertsbridge
Who Lived in Robertsbridge (1st Edition) - this is a house-to-house survey broadly based on the 1841-1901 Censuses and updated where information has become available - £16.50
Who Lived in Salehurst (2nd Edition) - this is a house-to-house survey broadly based on the 1841-1901 Censuses with additional earlier material. This publication will be updated as more information becomes available - £13.50
Who Lived in Northbridge Street (2nd Edition) - this is a house-to-house survey broadly based on the 1841-1901 Censuses with additional earlier material. This publication will be updated as more information becomes available - £14.50
A Salehurst Notebook by Colin Field - £7.50
Leonard Hodson's Pocket Notebook of Salehurst and Robertsbridge - £5.50
Leaves from a Genealogists Notebook, a record of East Sussex Memorial inscriptions - £9 Also available on CD delivery in 2-3 days
East Sussex Villages by Colin Field, illustrated and covers a range of local villlages with historical and other notes - £9.50
Salehurst Parish Magazines - Set of 5 CDs, includes such magazines as are available from the 1900s and scanned onto CD - £15.00
Urban survey
Please
click here
to view the Robertsbridge Historic Character Assessment Report (July 2009) in PDF format.
Sources
I have used a number of published sources for the information on this web site and these are listed below. But I am also grateful to those who have freely given me the benefit of their longer association with the village, in particular Margaret Bryson, Ruth Waghorn and Jean Woodgate.
An Architectural History of Robertsbridge (1974)
David Martin & Barbara Mastin
An Architectural History of Northbridge & Salehurst (1980)
David Martin & Barbara Mastin
A Sussex Abbey (1991)
Jerrard Williamson
Victoria County History – Sussex
The Hundred of Henhurst
A Short History of the Parish of Salehurst (1914)
Leonard J. Hodson
History of Robertsbridge 2nd Edition (1906) - click here to see this in PDF format
J.J. Piper
History of Hastings Castle (1909)
Charles Dawson
Salehurst C. of E. Primary School – Our village school past and present (1992)
Margaret Gregory
Survey of Robertsbridge (1944)
Sussex Record Society Vol. XLVlll
Remarks on some charters and other documents relating to the Abbey of Robertsbridge (1879)
C. Perceval Archaeologia Vol. 45
A good collection of photos from the past can be found in 'Battle and Robertsbridge in Old Photographs' collected by Alan Gillet and published by Alan Sutton Publishing, 1989. Now out of print but copies can often be found in secondhand book shops.