Famous People
Harry Andrews Herbert Beerbohm Tree Hilaire Belloc Barbara Bodichon Sir Edward Boyle Lord Edward Cecil Hazel Court Samuel Taylor Coleridge William Davies W. G. Grace Andrew Green Eira Heath Jonathan Harmer Basil Hoskins Leslie Gilbert Illingworth John Leland Averil Mackenzie-Grieve Malcolm Muggeridge Ronald Neibour Leslie Arthur Waghorn Horace Walpole John Wesley Edward Woodward Royalty
Photo of Harry Andrews courtesy of Allan Warren, CC BY-SA 3.0, via Wikimedia Commons
Harry Andrews, CBE b.1911 d.1989
British character actor who appeared on stage, TV and in films. He joined the Old Vic Theatre Company under Sir Laurence Olivier and then spent 10 years at the Stratford Memorial Theatre in Stratford-upon-Avon and appeared in many films often taking military roles. Perhaps his most famous role was as the Sergeant Major opposite John Mills in the classic 'Ice Cold in Alex'.
He lived for many years in Salehurst and is buried in the parish burial ground.
Sir Herbert Beerbohm Tree b. 1852 d. 1917
Born in London, he was educated in Germany but took to the stage on his return to London. In 1887 he took over the Haymarket Theatre and after the success of his play 'Trilby' was able to built His Majesty's Theatre where he successfully competed with Henry Irving's theatre the Lyceum. He was a great character actor excelling in roles such as Hamlet, Shylock and Falstaff.
His wife, Helen Maud, Lady Tree, was herself an accomplished actress and they lived for some years at Glottenham Manor, Robertsbridge.
Hilaire Belloc b. 1870 d. 1953
Born near Paris but brought up largely in Sussex by his English mother, Bessie Rayner Parkes, a life-time friend of Barbara Bodichon (q.v.). A poet, novelist, biographer, satirist and a Member of Parliament, he spent much of the last 50 years of his life in Shipley, West Sussex and much of his writing reflects his deep love of the county.
In 1911 he published 'The Four Men', a fictional account of a journey across Sussex from east to west, starting in Robertsbridge which he knew well from his mother's associations. It begins 'Nine years ago, as I was sitting in the George in Robertsbridge, drinking that port of theirs and gazing at the fire....'.
Barbara Bodichon (nee Leigh Smith) b. 1827 d. 1891
Born in Whatlington, Barbara was the eldest of five children born out of wedlock to Benjamin Leigh Smith M.P. and Anne Longden. The family lived for some years in Pelham Crescent, Hastings and later at Brown's Farmhouse, Robertsbridge.
During her time in Hastings she met many notable people including Gertrude Jekyll, Marianne North and William Hunt and others of the Pre-Raphaelite Brotherhood.
After her marriage to the French doctor, Eugene Bodichon, she had a house built at Scalands Farm, Robertsbridge (which was then owned by her brother) and there she entertained many notable people of the day including Rossetti, Gladstone, George Eliot and John Ruskin and her life-long friend Bessie Raynor Parkes, the mother of Hilaire Belloc (q.v.).
She was a radical supporter of womens' rights and helped educate the poor locally by starting the Scalands Night School.
She died at Scalands and is buried in Brightling churchyard.
Sir Edward Boyle KC b. 1848 d. 1909
A Fellow of the Chartered Surveyors Institute and Fellow of the Royal Geographic Society he lived at Ockham House. He was Member of Parliament for Taunton from 1906 to 1909 and in 1904 was created 1st Baronet Boyle of Ockham, Salehurst in 1904.
Sir Edward Boyle 2nd Baronet b. 1878 d. 1945
Succeeded to the his father's title in 1909. He was acting British Commissioner of Serbia in 1915 and became High Sheriff of Sussex in 1927.
Sir Edward Charles Gurney Boyle b. 1923 d. 1981
Son Sir Edward Boyle, 2nd Baronet, he succeeded to his father's title in 1945. He served as Conservative Member of Parliament for Handsworth from 1950 to 1970, holding many offices in Government during his career including Financial Secretary to the Treasury, Minister of Education and Minister of State for Education and Science.
In 1970 he was awarded a life peerage as Baron Boyle of Handsworth, of Salehurst in the County of Sussex. He lived for many years at Ockham House until his death in 1981.
Lord Edward Gascoyne-Cecil KCMG DSO b. 1867 d. 1918
A distinguished soldier who served as aide de camp to Lord Kitchener at the Battle of Omdurman and during the Boer War he became a colonial administrator in Egypt. He was the son of Robert Gasgoyne-Cecil, Lord Salisbury, Pprime Minister.
He lived for some years at Wigsell.
Hazel Court b. 1926 d. 2008
Born in Sutton Coldfield, Birmingham she subsequently studied drama at the Birmingham Repertory Theatre.
Her first film part was in 1944 and she has many films to her credit but is perhaps chiefly remembered for her roles in horror films during the 1950s and 60s.
In addition to acting, she is also a painter and sculptor. Her autobiography 'Hazel Court Horror Queen' is due to be published in 2008.
She lived for some years in Fayre Meadow, Robertsbridge.
Samuel Taylor Coleridge b. 1772 d. 1834
It seems that at least one of the Romantic Poets visited Robertsbridge at some point. I am grateful to Philipa Coughlan for letting me have this information which she found during her research. It appears in his collected letters Vol. III and was written on Sunday 14 March 1818. It would be interesting to know which pub it was.
"My Dear Friends,
...we had never passed a more agreeable Day, thro' a sweet Country & delightful weather, we arrived at Battle at half past 4, & found Mr Walker at the Inn Door - but we had found ourselves so hungry at Robertsbridge (the dinner stage, 12 miles from Battle) that we had already dined, off a sirloin of good roast Beef very well drest - boiled Slices of Plum Pudding, & an apple Pie - & I have seldom, if ever, seen Morgan eat so much so heartily, & without the least heaviness or uncomfortable feeling after or since - "
William Davies b. 1921 d. 2006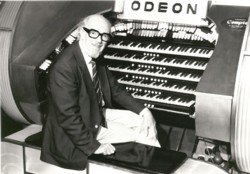 Photo by John D. Sharp, Crowborough, East Sussex, courtesy Felicity Davies
Born in Bolton, Lancashire he started to play the organ at the age of 11, learning from his uncle who played at the local Methodist Chapel. He practised on the local Odeon cinema organ but his career was interrupted by the war in 1939 when he joined the RAF and served in Ceylon.
His career resumed in 1946 at the end of the war and he subsequently went on to spend 18 months as organist at the Dominion, Tottenham Court Road in London. In the 1950s he moved more to composing and arranging and appeared in many productions for the BBC including the long running 'Friday Night is Music Night' and in 1972 provided the music for Alistair Cooke's radio series, 'Letter from America'.
He also composed music for films and more than 200 of his compositions and arrangements were published.
He lived with his second wife, Felicity, in Fayre Meadow, Robertsbridge and he often supported village events with his organ and piano playing.
William Gilbert (W. G.) Grace b. 1848 d. 1915
Although trained as a doctor, he is considered to be the first truly great cricketer of modern times both as batsman and a bowler. He finished playing at the age of 60 having scored 126 centuries, 54,896 runs and taken 2864 wickets and played in 22 test matches! He used a Nicolls bat from Robertsbridge for most of his career.
Once when giving an exhibition of batting he strode to the wicket and was bowled first ball! 'Out' called the umpire. 'Play on' said W.G. 'You are out' said the umpire. 'My man' said W.G. 'These people have come to see me bat, not you declare me out. Play on.'
Andrew Green b. 1927 d. 2004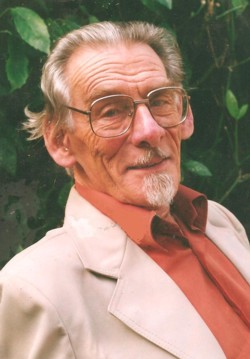 Dubbed 'Britain's Spectre Inspector', Andrew Green was for 60 years one of the UK's most active ghost hunters, doing much to popularise the study of ghosts and haunted houses from a scientific perspective. Probably more than any other 20th century researcher Andrew Green was responsible for the approach taken by ghost hunters today when routinely examining haunted sites. The regular use of instrumentation, varying from simple thermometers to sophisticated electronic equipment, are all techniques which Andrew Green promoted to a wide and receptive audience.
Born in Ealing in on July 28th 1927, his life-long interest in the paranormal was apparently stimulated by a near fatal experience at a reputedly haunted house in September 1944.
His investigation work led him in 1976 to meet his second wife, teacher and poet, Norah Cawthorne who had experienced a strange smell of perfume at her cottage in Sussex. The explanation was found to be perfume which had seeped into the timber of the cottage and was released whenever a fire was lit.
After their marriage they lived at Mountfield but before that Andrew lived at Busheygate, Robertsbridge where his services were often called upon by owners of ancient houses in the village and continued to be after his move.
Eira Heath b. 1940
Born in Essex, Eira went on to study at RADA and was only 16 when she played the supporting role of Jean in 'Wild Grows the Heather' a musical version of J.M.Barrie's 'The Little Minister'.
After a few small parts it was 5 years before she was given the part of Becky Sharp in a musical adaptation of 'Vanity Fair' but like the rest of the cast had little chance of stealing the limelight against Sybil Thorndike who was making her debut in musicals!
She lived for some years at Robertsbridge Abbey.
Jonathan Harmer b. 1762 d. 1849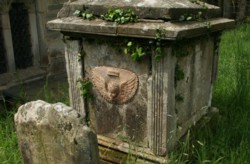 Terracotta plaque by Harmer
Born in Heathfield , the son of a stone mason. Went to New York in 1796 but returned in 1800 on the death of his father to take over the family business.
He specialised in terracotta bas reliefs for tombstones but at least one cast iron and one stone one exist. Examples of his work can be found at Heathfield, Mayfield, Herstmonceux and Cade Street as well as Salehurst.
Basil Hoskins b. 1929 d. 2005
Studied acting at RADA and later spent five seasons with the Shakespeare Memorial Company in Stratford-upon-Avon and later toured Australia with the Old Vic Company with Katharine Hepburn.
A popular British film actor he also had a distinguished career on the stage appearing opposite stars such as Vivian Leigh, Alec Guinness and Lauren Bacall. He also starred for many years in the TV drama series 'Emergency Ward 10' .
He was a longtime companion of Harry Andrews and lived in Salehurst and is buried in the parish burial ground.
Leslie Gilbert Illingworth b. 1902 d. 1979
Born in Barry he attended Cardiff Art School and later the Slade School of Art. He worked for some time on the Western Mail as a cartoonist before joining the Daily Mail in 1939 and drew cartoons to lift British morale during World War II. He became chief cartoonist for the magazine Punch in 1945 but remained with the Mail until his retirement in 1969.
He lived for many years at 'Silverdale' and older residents remember him designing and painting sets for the village amateur dramatic society.
John Leland b. 1506 d. 1552
In 1533, Henry VIII made him 'king's antiquary' to search for records of antiquities in cathedrals and abbeys and priories. His 'Itinerary' took him to all parts of the country including Robertsbridge where he speculated that the name might be a corruption of Rothersbridge from the cattle using the bridge. Despite there being no documentary evidence for this, cartographers for the next couple of centuries persisted in using Rothersbridge.
Some 'authorities' including Hilaire Belloc (q.v.) perpetuated this mistaken idea and regrettably it is still found in some modern guide books.
Averil Mackenzie-Grieve b. ? d. 1975
Author, artist and engraver, she travelled widely before and after the 2nd World War in the Far East as well as Europe. Her travel books and autobiography recount many of these journeys.
She lived from 1952 - 75 at George Hill House in Robertsbridge.
Malcolm Muggeridge b. 1903 d. 1990
Author, journalist and broadcaster, he served with distinction in the intelligence corp during the Second World War and received the Legion of Honour and Croix de Guerre.
A self-confessed womaniser and heavy drinker in his early years, in 1968 he controversially resigned as rector of Edinburgh University over student liberalism and promiscuity! In 1983 he converted to Catholicism.
He and his wife Kitty lived for many years in Robertsbridge until his death in 1990.He is buried in Whatlington churchyard.
Ronald Neibour (NEB) b. 1903 d. 1972
Ronald Neibour - known as NEB the cartoonist - was born in London but educated at Barry County school in Wales and went to school with Leslie Illingworth (q.v.).
He spent 2 years in the Merchant Navy before becoming a teacher. A self-taught artist he was first employed as a cartoonist on newspapers in Wales and finally joined the Daily Mail in 1938.
His 'pocket' cartoons were much enjoyed during the war years and subsequently he went on to work for PUNCH magazine.
He lived for some years at Bishop's Croft, Robertsbridge and with his former school friend helped design sets for the village pantomimes.
Leslie Arthur Waghorn b. 1906 d. 1979
Born and raised in Robertsbridge, Leslie Waghorn played 1st Class cricket both for Sussex CC and for the MCC between 1926 and 1928.
After his playing career was over Leslie became the groundsman at the King Edward VII School, Sheffield from 1935-71 and on retirement returned to Robertsbridge where he lived until his death in 1979.
Horace Walpole b. 1717 d. 1797
The youngest son of Sir Robert Walpole he spent most of his life working on the transformation of a coachman's house in Twickenham into a pseudo-castle, Strawberry Hill and on his correspondence and writings. He also travelled a lot but his fleeting visit to Robertsbridge left him only bad memories as he described in one of his letters.
'The roads grew bad beyond all badness, the night dark beyond all darkness, our guide frightened beyond all frightfulness. However, we got up, or down - I forget which, it was so dark - a famous precipice called Silver Hill, and about ten at night arrived at a wretched village called Rotherbridge (sic). We had still six miles hither, but determined to stop as it would be a pity to break our necks before we had seen all we had intended. But, alas there was only one bed to be had, all the rest were inhabited by smugglers, whom the people of the house called mountebanks...'.
John Wesley b. 1703 d. 1791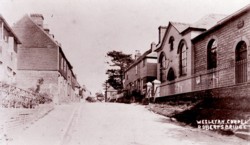 Evangelist and founder of Methodism, he travelled over 250,000 miles in his life and preached over 40,000 sermons during his lifetime. His sermons always attracting large audiences.
He visited Robertsbridge five times, in 1771, 1775, 1778 (twice) and 1784, on each occasion being favourably received.
A Wesleyan chapel was established in Fair Lane but this has now been converted into residential accommodation.
Edward Woodward b. 1930 d. 2009
Born in Croydon, Edward Woodward trained as the Royal Academy of Dramatic Art and made his stage debut in 1946.
He appeared in many theatre productions and made the transition from stage to television and film both in this country and America. His superb performance in The Wicker Man in 1973 led to international stardom.
He lived for many years at Church Farm House in Salehurst.
Royalty
Before their Dissolution and before the arrival of the stately homes, royalty often found the Monasteries a convenient, and cheap, place to stop on their journeys around the country. Robertsbridge, conveniently situated between Bayham Abbey and Battle was not spared.
Richard I (reigned 1189-1199)
It is unlikely that this King actually visited the town since during his 10 year reign he was in England for probably only 12 months in all!. However, the Abbot of Robertsbridge together with the Abbot of Boxley was sent to find Richard when he was held captive in Bavaria on his return from the Crusades. He is said to have given the font in the parish church in gratitude.
Henry III (reigned 1216-1272)
Visited the Abbey twice, in 1226 and again in 1264 en route to his disastrous battle with Simon de Montford at Lewes. On this second visit he extorted large sums of money from the Abbey.
Edward I (reigned 1272 - 1307)
Visited the Abbey in 1295 and again in 1297.
Edward II (reigned 1307 - 1327)
Visited the Abbey in 1324.